Every other month, members of the Start Us Up coalition convene to discuss progress and tactics to engage policymakers in our work. On Tuesday, coalition members gathered virtually to discuss entrepreneurship advocacy in the age of COVID-19.
For the first time, an elected official joined the group to offer insight from a policymaker's perspective. Rhode Island Lieutenant Governor Dan McKee, who earlier in July hosted coalition manager Jason Wiens for a community conversation on small business, spoke to the coalition on tactics that resonate with government officials.
His overarching advice: specificity is key — both in framing your request and the potential benefits.
It's no secret that entrepreneurs are struggling; there is an unfortunate abundance of news headlines detailing the ongoing challenges new and small businesses face, as well as the countless enterprises that have closed amid the pandemic. And at the highest levels of government, lawmakers have yet to put together a comprehensive package that addresses the specific needs of so many business owners.
To change that, it's incumbent advocates for entrepreneurs to frame the specific, concrete steps policymakers can take.
Lt. Gov. McKee's words remind us of the Woman's Foundation, whose relentless advocacy for occupational licensing reform moved Missouri policymakers to act.
Or perhaps Startup Tucson, who recently paired America's New Business Plan with specific data about Tucson, advocating for four concrete buckets of policymaker action to support the city's COVID-19 rebound.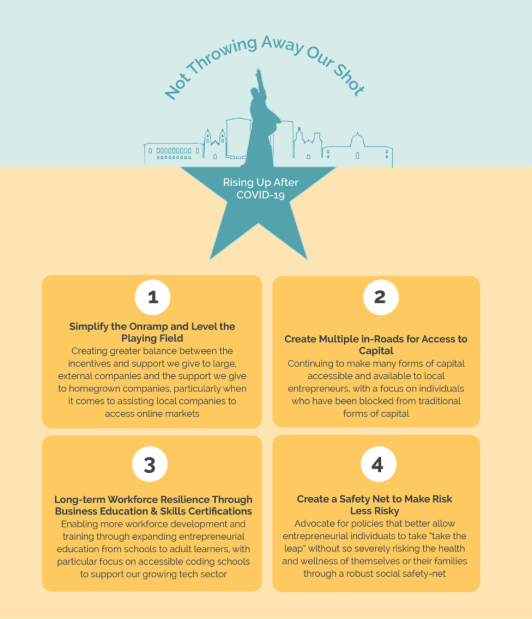 In June, Small Business Majority asked the Small Business Administration for greater transparency around PPP loans, helping drive the release of loan-level data in early July. After follow-up advocacy around PPP loan extension, the program was extended into August.
Meanwhile, Betsy Biemann, CEO of Coastal Enterprises, Inc., is a member of Maine's Economic Recovery Committee, which in July released its recommendations to Governor Janet Mills.
And that's only the tip of the iceberg.
So many in our coalition are leading in their communities, not simply saying, "business is tough, do something for us" — as Lt. Gov. McKee warned against — but instead advocating around specific reforms.
That's why America's New Business Plan exists: to bring greater focus to concrete recommendations that will appeal to policymakers across the political spectrum and levels of government. Nearly one year since its launch, we're incredibly proud to see the Start Us Up coalition mobilizing for action during tumultuous times.