Two weeks ago, Start Us Up coalition member Peoria Innovation Alliance hosted policy, business, and community leaders to discuss America's New Business Plan (ANBP) and the needs of entrepreneurs.
Founder and Executive Director Jake Hamann shared with us his takeaways from the event and his hopes for the future of Peoria.
What prompted you to join Start Us Up and bring America's New Business Plan to Peoria?
Peoria has a history as a testing ground for all things new, hence the phrase "Will it Play in Peoria?" We were once dubbed as the "Whiskey Capital of the World," the mass production of penicillin originated in our USDA Ag Lab, and many musicians such as Bob Dylan, Metallica, Robert Plant, Phil Collins, and countless others have launched their tours here in Peoria.
More recently in late 2013, we were one of the first mid-sized communities to create an ecosystem building organization called Startup Peoria and in early 2014, we were the 11th community to launch 1 Million Cups (1MC) from the Kauffman Foundation. Today 1MC still serves as one of the on-going foundational programs for our entrepreneurial ecosystem.
When America's New Business Plan was launched in late 2019 it once again provided an opportunity for us to be an early adopter of what we felt was another valuable resource for entrepreneurs and new businesses in our region.
Who joined America's New Business Plan town hall, and how did you choose this group for the panel?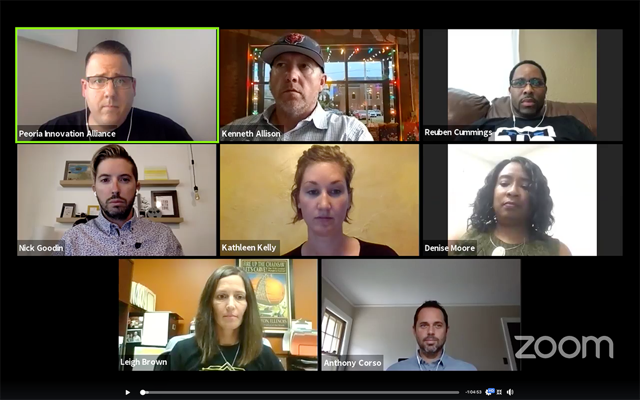 We spent around three weeks promoting the ANBP Town Hall through our various social media channels and were able to further promote with the help of several local media outlets who ran stories or conducted interviews leading up to the event.
The event itself garnered over 100 registrations and over 75 attendees ended up joining via Zoom or Facebook Live on the evening of the Town Hall. What was most exciting is that over 50% of the attendees were new names and email addresses that had not previously participated in any ecosystem activities.
As far as the panelists themselves, we leveraged personal relationships and connections to gather a diverse mix of 8 participants from across our region. This included an elected city council member, two city officials, an economic development professional, and four local entrepreneurs at varying stages of growth.
Our presentation format followed that which was provided by the Start Us Up team, with our panel discussion centered around the four focus areas of America's New Business Plan: Funding, Opportunity, Knowledge, and Support. We first established the challenges that exist within each of those areas, panelists shared a specific example of encountering those challenges in our community, and then we talked about a solution that was being offered up by an organization or entity in the community to address a given challenge.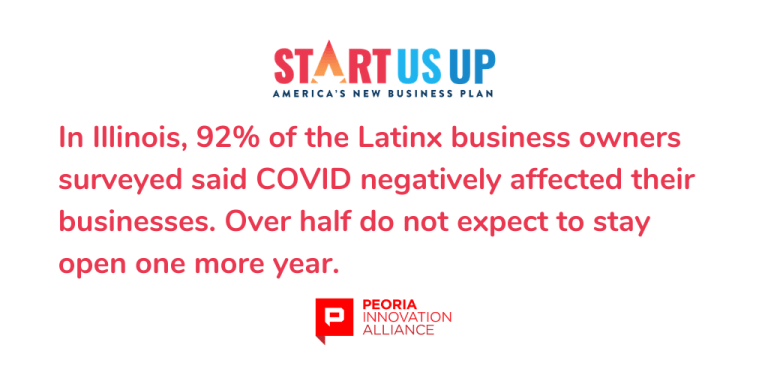 What were the highlights of the conversation?
For me, the fact that we were even having the conversation and that the entrepreneurial community has a seat at the table when it comes to the future of our economy is the most exciting highlight. The conversation itself brought many individual highlights, but far too many to choose from. You can be the judge and check out the recording.
WATCH THE AMERICA NEW BUSINESS PLAN TOWN HALL
What do you hope the town hall's participants and audience got out of it? What will happen next from a policy perspective?
I believe the key takeaway for the participants and audience was awareness and advocacy.
Our next steps are to develop a MoU (non legally binding, of course) that can be presented to our elected officials and economic development professionals as somewhat of a "pact" that they will sign. This MoU is intended to encourage them to keep the support of entrepreneurship and new business creation as a top priority as they develop new or revisit old policies, create strategic plans, hire new staff, and look at ways in which we can grow our region in this new and ever-changing economy.
Jake Hamann is founder & executive director of the Peoria Innovation Alliance.