Last week, President Joe Biden released a proclamation declaring November, which each year features National Entrepreneur's Day (Nov. 16) and Global Entrepreneurship Week (November 8-14), to be National Entrepreneurship Month.
"The COVID-19 pandemic has posed historic challenges to our country and our Nation's entrepreneurs," the proclamation reads. "Many businesses closed, and main streets became quiet. Despite these setbacks, American entrepreneurs showed incredible fortitude, finding innovative and effective ways to adapt their businesses as we fight a once-in-a-century crisis."
Citing new loan and venture capital programs; investments in broadband, childcare, health care, and workforce development; and the State Small Business Credit Initiative — the proclamation speaks to a range of America's New Business Plan policies needed to support new and small businesses.
It also emphasizes the progress we've seen this year:
"In the midst of the economic disruption caused by the pandemic, Americans started more than 4 million businesses last year, a 24 percent increase from the year before — the highest number of monthly business applications on record — and start-up rates growing the most among immigrants and Black, Latino, and Asian, Native Hawaiian, and Pacific Islander Americans."
New data from members of Start Us Up brings additional context to recent progress, as well as the work that remains for policymakers working to ensure inclusive access to entrepreneurship.
Global Entrepreneurship Week (GEW) 2021
Coordinated annually by Global Entrepreneurship Network (GEN), GEW is a worldwide celebration of entrepreneurs, with events aimed at "bringing new audiences together and strengthening the connections of local ecosystems everywhere." As the event continues to grow — Hawaii Gov. David Ige issued his own proclamation recognizing the week on behalf of the state of Hawaii — GEN is coordinating updates and opportunities for engagement across the country (and across the globe!). Check out their latest roundup today!
Angel Funders Report 2021
The Angel Capital Association released its new 2021 Angel Funders Report, with investment data showing significant improvements in race and gender disparities. Among the highlights:
The number of angel-funded female-led companies increased 10% in 2020; 29% of all funded CEOs were female
Female CEOs raised 93 cents for every dollar raised by male CEOs — up form 75 cents
Initial investments in Black-led companies grew to 15% in 2020, a 5x increase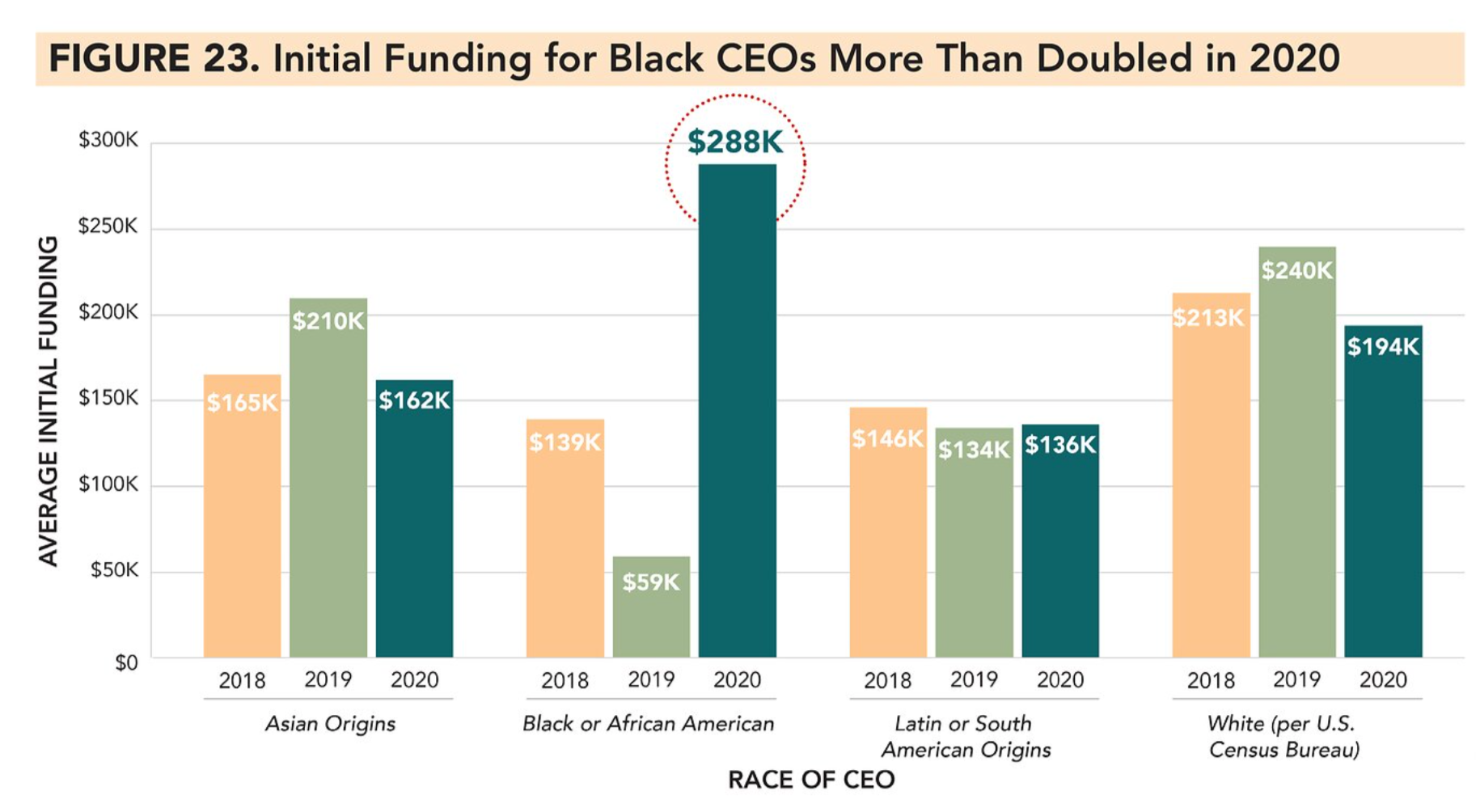 2021 Local Scorecard: Data on the Financial Health of Your Community
The newly-updated local scorecard from Prosperity Now provides insight on the "financial health of households across the United States, revealing extreme differences in outcomes among localities," with people of color disproportionately affected. The factsheet offers a case study to illustrate race-based wealth disparities:
"The District of Columbia is a diverse city with 44 percent of the population identifying as Black and 37 percent identifying as White. Within the District, 29.6 percent of households are liquid asset poor, which is the percentage of households that do not have cash or savings to survive at the federal poverty level for three months if a loss of income occurs. When parsed down by racial identities, only nine percent of White households are liquid asset poor compared to 49.3 percent of Black households and 39.5 percent of Latinx households."
Prosperity Now data includes metrics for every state, city, county, Congressional district — and more.