Released on April 2, the March jobs report revealed optimistic news about the U.S. economy. The report showed an increase of 916,000 jobs over the previous month — twice as much as in February, and the most since August 2020. The unemployment rate fell to 6%, the lowest rate since the COVID-19 pandemic started.
The United States still has a long way to go to recover from the catastrophic losses caused by the pandemic, as illustrated in the CNN graphic below: employment in the United States is down by 8.4 million jobs from the pre-pandemic level in February 2020.
Nevertheless, the latest report does illustrate that a meaningful, sustained rebound seems possible as more Americans get vaccinated and people feel more comfortable to venture out and engage in the economy.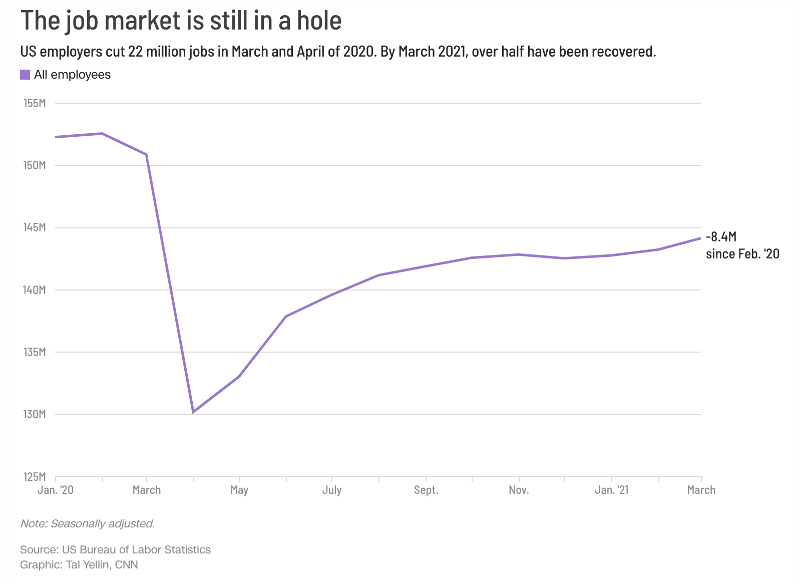 Throughout the difficulty of the pandemic, members of the Start Us Up coalition have worked tirelessly to support entrepreneurs and create a strong, equitable recovery.
Boosting Entrepreneurs While Fighting Monopolies
A recent Wall Street Journal article chronicled the efforts of the Institute for Local Self-Reliance (ILSR) to boost entrepreneurs across the country. The group has joined with organizations — including the National Grocers Association, the American Booksellers Association, and the Alliance for Pharmacy Compounding — to create Small Business Rising, a coalition that calls on policymakers to break up monopolies and safeguard the right of independent businesses. The Wall Street Journal's article quotes Stacy Mitchell, co-director of the ILSR, as saying, "It's a real business that is really going to go under with a real community that is going to suffer as a result."
Vaccines Are Top-of-Mind for Entrepreneurs
Nearly two-thirds (64%) of small business owners say it is very important that their employees get vaccinated against COVID-19 — and many are willing to help make that happen, according to a survey by Reimagine Main Street, an initiative from Public Private Strategies. Almost the same percentage (63%) are willing to incentivize employees to get vaccinated, and 19% intend to mandate the vaccine for their employees. More than one in four (45%) plan to give workers paid time off to get vaccinated, and that number rises to 53% among AAPI small business owners.
Coalition Groups Win Federal Awards
Three coalition members — Oregon RAIN, Startup Tucson, and University City Science Center — were named recipients of the Economic Development Administration's (EDA) Scaling Pandemic Resilience Through Innovation and Technology (SPRINT) Challenge. The groups will receive up to $750,000 each in the continuing effort to "harness America's entrepreneurial potential to address the economic, health, and safety risks caused by the coronavirus pandemic," the press release noted.