Several weeks ago, the Washington, D.C., City Council unanimously approved legislation to create "baby bonds" for children born into low-income families. As described in America's New Business Plan, a baby bonds policy establishes "investment accounts for infants, with larger seed grants for families with lower household wealth, and smaller grants for those with more wealth," with the bonds accessible in adulthood.
As noted in a press release from Councilmember Kenyan McDuffie, who introduced the bill, the policy "seeks to address the legacy of institutional racism that has prevented Black Americans from accessing wealth building opportunities and passing down wealth over generations."
Baby bonds take aim at the racial wealth divide, which in 2019 was measured at 90%, as visualized below by coalition member Prosperity Now.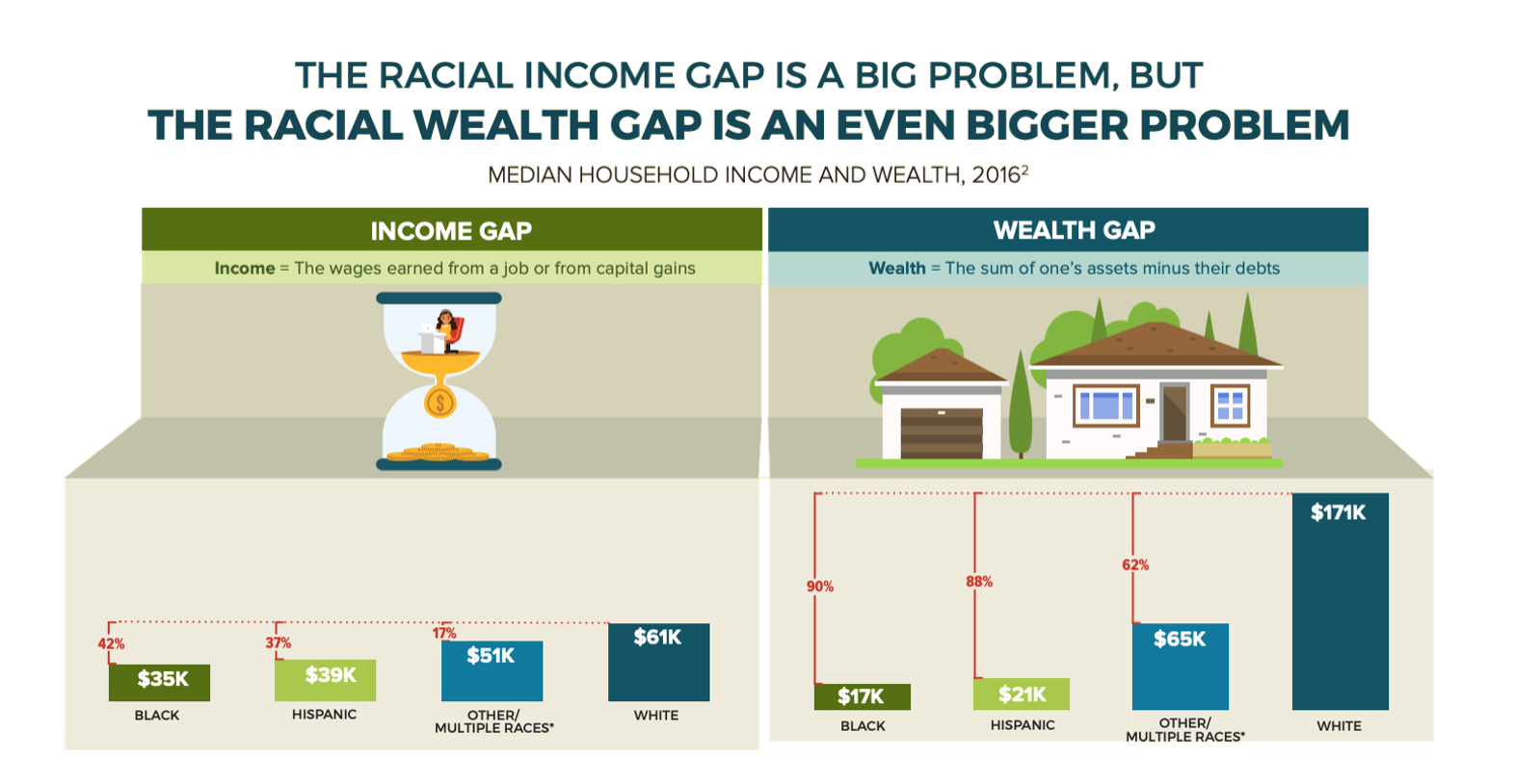 As policymakers work toward an accessible and inclusive entrepreneurship landscape, the racial wealth gap remains a critical barrier to entry. Personal savings are the top source of startup capital used by businesses, and without policies and programs designed to help communities of color build generational wealth, cycles of poverty will persist — making entrepreneurship, itself a form of wealth creation, unattainable to many.
And while there's no silver bullet, baby bonds, or child savings accounts, offer tremendous potential. As mentioned in ANBP, a 2018 study found that while racial wealth differences would still exist, a baby bonds program could reduce the median Black-White wealth gap from a factor of 15.9 to 1.4.
In its recent financial health scorecard, Prosperity Now brought a spotlight to the gap in Washington D.C., noting that "only nine percent of White households are liquid asset poor compared to 49.3 percent of Black households and 39.5 percent of Latinx households."
Now, the D.C. City Council has taken an important step to address the systemic problem, providing a roadmap for others to follow.
Though the concrete effects of the policy — in the form of increased homeownership or, of course, increased startup rates for communities of color — may not be visible for years, wealth disparities exacerbated by COVID-19 provide even greater urgency for policymakers to act. As governments at all levels work to rebuild a more sustainable economy, baby bonds can and should play a vital role.