Perhaps no recommendation from America's New Business Plan saw has seen more activity in the past year than occupational licensing reform — a call for states (and the federal government) to slash red tape that erects barriers to entrepreneurship.
Last month, we shared news of action in Arkansas, which reformed occupational licensing laws for cosmetologists — an effort led in part by the Institute for Justice. The law came on the heels of similar, and often more expansive efforts, across the country.
According to the Independent Women's Forum:
In Iowa, Missouri, Idaho, Utah, and Colorado, state legislatures passed universal recognition laws. This means that individuals who are already licensed in other states will not need to undergo additional education or training in order to obtain a license in these states.
Wisconsin and Mississippi*, while not allowing universal recognition for all individuals, did pass such legislation for military spouses.
Finally, Florida loosened or removed occupational licensing requirements for more than 30 different professions.
The efforts represent a critical step in reducing barriers to entry for entrepreneurs from all backgrounds, particularly women who are disproportionately impacted by state licensing requirements, according to United-WE, who was instrumental in advocating for reform in Missouri.
The steady drumbeat of activity — often bipartisan in nature — holds promise for the future. As policymakers seek ways to expand pathways for upward mobility, addressing overly onerous licensing is a straightforward means of doing so — and one that doesn't require new budget.
A number of states would benefit, too. The Institute for Justice tracks "frequently irrational" licensing burdens in every state, offering recommendations for reform that are applicable to all states, but particularly those that are overly restrictive in licensing to date.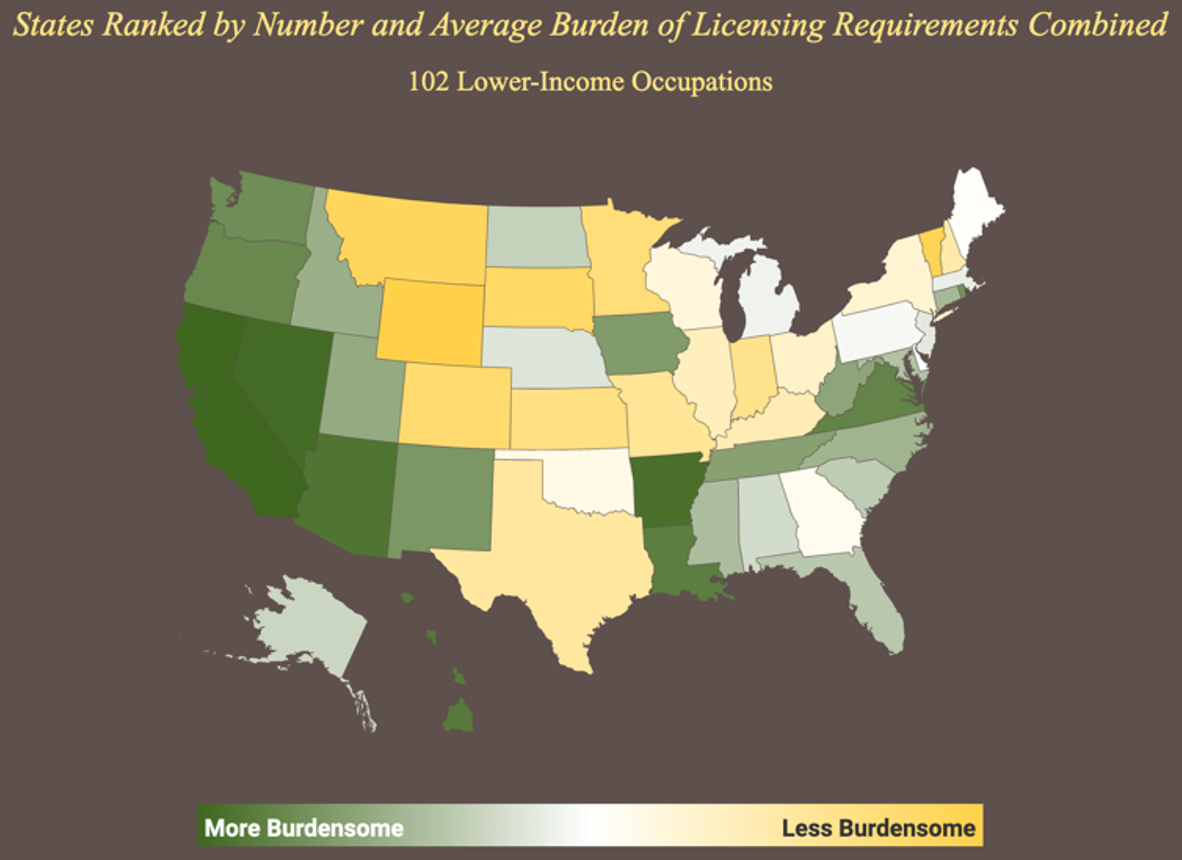 America's New Business Plan builds from this, succinctly recommending that policymakers:
Replace licensing with less onerous forms of regulation, such as certifications or permits, in industries where public health is not seriously threatened.
Streamline remaining licensing requirements. States can develop regional or interstate compacts to ensure occupational licenses are transferable to or recognized by neighboring states, just like a driver's license. Federal preemption would accomplish a similar purpose.
Reduce blanket bans and "good character" clauses in remaining licensing requirements, which erect barriers to entrepreneurship for the formerly incarcerated.
After decades of increased regulations — data shows the number of jobs that require an occupational license increased from about 5% to 25% since the 1960s — the tide may be turning on occupational licensing.
*Ohio also passed similar reforms in early 2020.