The impact of COVID-19 on the American economy is hard to understate. Beyond introducing new crises, the pandemic exacerbated existing ones and exposed numerous issues that were too often overlooked — from lending disparities to inadequate support systems for entrepreneurs.
But in forcing policymakers to grapple with these challenges, the pandemic has ushered in a moment of opportunity. With a spotlight on the shortcomings of existing policies, there's a newfound urgency to consider necessary reforms.
The ongoing labor shortage is perhaps the most recent example and was the topic of a National Governors Association conversation hosted by Start Us Up's Jason Wiens. The panel, which included Margaret Busse, Executive Director, Utah Department of Commerce; Jane Flanagan, Deputy General Counsel, Illinois Governor's Office; and Kenan Fikri, Director for Research, Economic Innovation Group — signaled how the "present moment, more than ever, really underscores how important it is to look at what keeps people from moving jobs," according to Flanagan.
At the forefront of the conversation were three issues highlighted in America's New Business Plan: occupational licensing, noncompete agreements, and workforce development.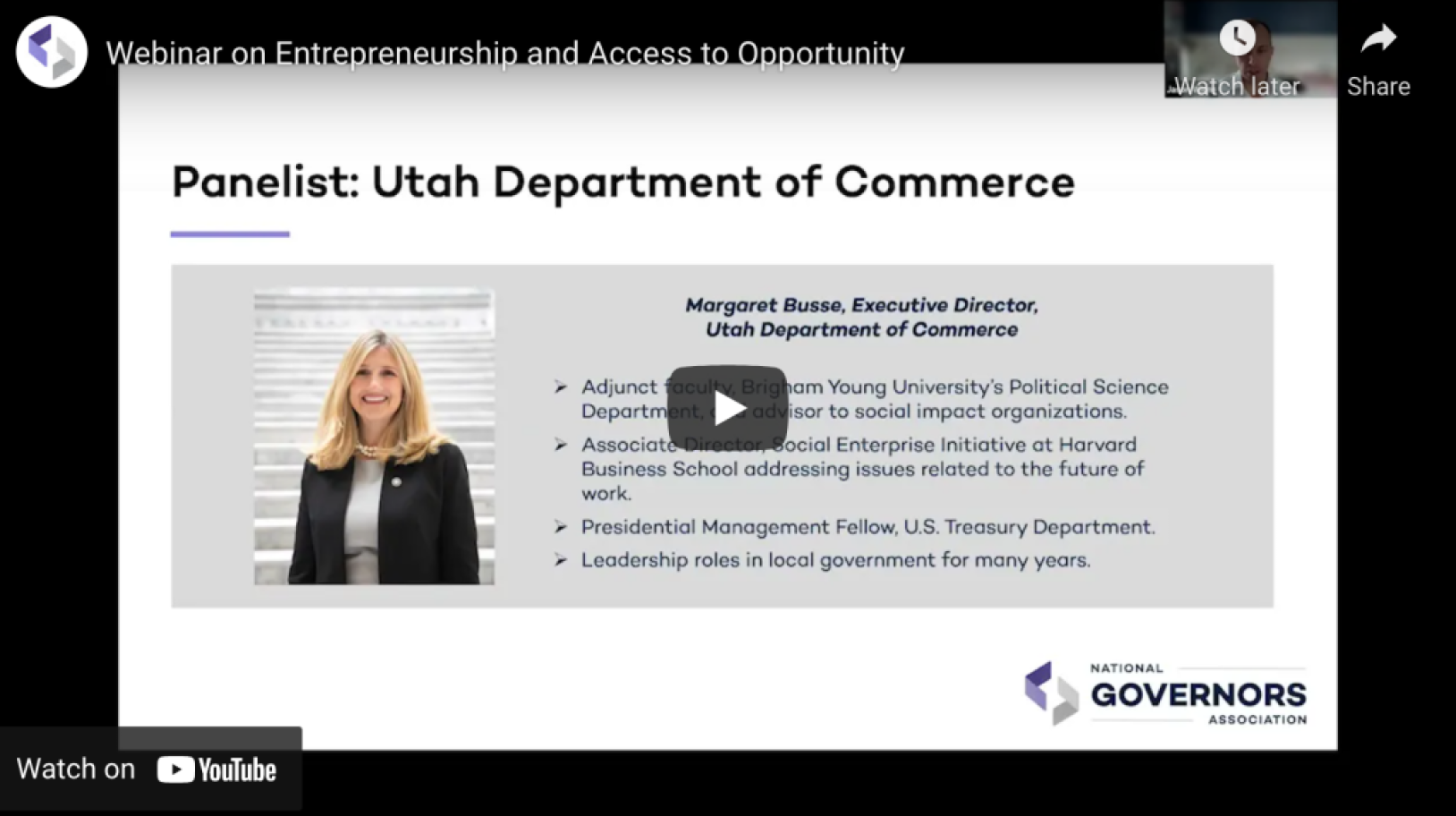 Early in the pandemic, states found their ability to mobilize health care workers hampered by existing occupational licensing requirements.
In Illinois, they "temporarily suspended and expanded our scope of practice considerations as well as our out-of-state recognitions to allow as much movement of the folks we needed on the ground as possible," Flanagan said. "And the sky didn't fall."
In Utah, they similarly loosened requirements of workers that could do "some of the entry-level health care work," said Busse. "That allowed a lot more people to help out, but what it also showed is: are the requirements we have in place right now really the right ones, or are they too much?"
That's a question policymakers should ask themselves as they approach other instances of occupational licensing, particularly after seeing how loosened regulations helped health care professionals fight COVID-19. As Busse noted, "there's a balance between protecting health and safety, but also removing barriers so people can get access to workers."
Going forward, the success of occupational licensing reform during the pandemic should give policymakers confidence to make similar changes elsewhere, particularly as employers face labor shortages nationwide.
The shortage — which Busse predicted to be a "long-term crisis" that will "force all sorts of different reforms" — could also have an impact on noncompetes, which too often are overly burdensome, apply to entry-level jobs, and disproportionately hurt low-income workers.
"On noncompetes, now that the labor market is so gummed up, there's real appetite [for reform]," said Fikri. 'The urgency now is not retaining your workers, it's getting new ones, and you don't want to run into a noncompete that obstructs you from that."
States are similarly rethinking how to approach workforce development as employers face shortages and with federal grants encouraging them to modernize their labor forces. In Illinois, Governor J.B. Pritzker launched a workforce commission on equity and access to evaluate a system that Flanagan described as "fragmented."
"We are really trying to go to the drawing board with outside stakeholders — with employers, with workforce providers with community colleges, trainers, with workers advocates — to say what does training for a new contemporary workforce look like?" she said. "How do we think about job quality and opportunity of jobs in a much broader way, and in a way that ties into skill and opportunity?"
From licensing to noncompetes to workforce development, COVID-19 offers a springboard for government stakeholders to rethink labor, economic, and entrepreneurship policies — allowing for a stronger outlook for employees, employers, and entrepreneurs alike.
"A lot of these things are ripe for being disruptive and transformative in the next era," Fikri said. "And largely for the better."